Stephan Schneider
More than melancholy.
STORY: Sara Harowitz

As the clock hits 5:30 p.m. on a truly blustery Vancouver evening, the team at Gravitypope on West 4th is setting up the last few paper serpentines for their Stephan Schneider clothing display. If you looked closely at these blue, white, and grey strips of paper, you would see that they have the words of famous love songs printed on them. Sitting coiled at the floor below a rack of garments, the serpentines look at once joyous and sad: like the remnants of a night you never want to forget.

Poised between melancholy and comedy is Belgian clothing designer Schneider's Spring/Summer 2017 collection, Desperately Seeking Serpentines. Taking its name from the 1985 movie Desperately Seeking Susan, Schneider's latest offering focuses on where pleasure and discomfort intersect; and like the film, it hangs in the balance of opposing sides. "It was a mix between indie and pop, between commercial and a bit rough, low-budget," the Antwerp designer, seated at the back of the Vancouver store, says of Madonna's first major silver screen role. "Serpentines are trash after a party, but at the same time they are curly the moment you throw them in the sky. I wanted to get this atmosphere in between sadness and funniness."
Desperately Seeking Serpentines, then, is a reflection of contrasts. Menswear pieces include tailored tan coats, white button-downs with reduced collars, and striped pieces that nod to their paper inspiration; the women's collection, similarly, focuses on angular and oozing shapes with crisp, classic striped trousers and simple-lined dresses. Each item feels like it belongs with the rest, and that is Schneider's intention. "Every season to come up again with a collection, if you have no theme, if you have no concept, it's so random," he says. "And this is the word I hate the most: a 'random' collection. Some denim, some T-shirts, some of this, some of that—for me, it's important to make a choice. For me, a collection is collecting: to collect the collection, to collect the colours, collect the fabrics, collect the volume, collect the silhouettes." Indeed, every piece feels like a part of a story, or perhaps a puzzle—either way, there is something undeniably intriguing, imaginative, and urbane about it all.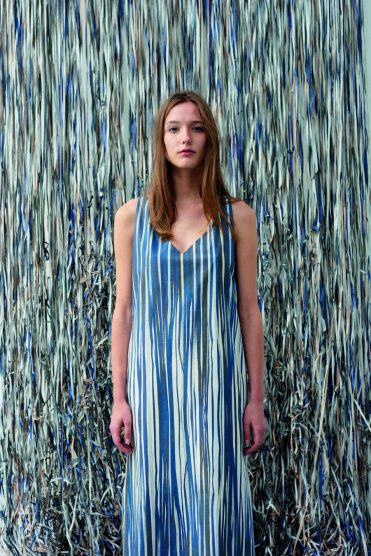 Schneider studied fashion at Antwerp's famed Royal Academy of Fine Arts, although he admits that when he began, he barely knew cashmere from silk. But being green actually gave him an edge. "I couldn't stitch, I couldn't make patterns, I couldn't draw," he recalls. "And this is what the Antwerp academy likes, they like really fresh people. They don't like people that have a lot of knowledge already." His entrance examination was more about his own personal culture than his sewing skills, and that helped him feel like he could belong without a fashion-forward childhood. "I was never interested in the couture, I never had Barbie dolls to dress, I wasn't trying to dress myself in bathrobes to get a dramatic entrance," he says of his youth. Instead, it was other young people, and other art forms, that eventually landed Schneider in front of admissions at the Royal Academy. "It was rather through music that I got interested in fashion," he explains. "And I felt that fashion is a certain statement of youth culture." Schneider struggled a lot in his first year at the academy, but eventually learned the skills to match his curiosity for the trade, and by the time he was finished, he had clients lined up to buy his graduation collection.
The customers kept calling, and then so did Gravitypope—Schneider's first Canadian retailer. "Louise [Dirks, Gravitypope's owner] comes to my showroom, buys the collection, and for me it's just of course important to see what it's like, what her store's like, what her customers are like," he says. This, his first trip to Canada, took him to Calgary's Gravitypope location before Vancouver. "I'm not a designer that is shy to meet the real people and to check the size and to see if it fits well," Schneider declares. "That's what it's about to make fashion. Fashion for me is a product with an emotion, but it stays a product, so I want to see who wears my product."
Having come right to the store upon touching down in Vancouver, Schneider first took note of the city's airy quality. "The light, the whiteness," he notes. "I would say European cities are very closed and tiny. It's always nice to get out of this historical labyrinth of tiny streets and to see openness." It's one of the greyest days we've had all year, and you can bet the locals haven't stopped complaining about it, but in a perfect contrast, Schneider finds the sun.